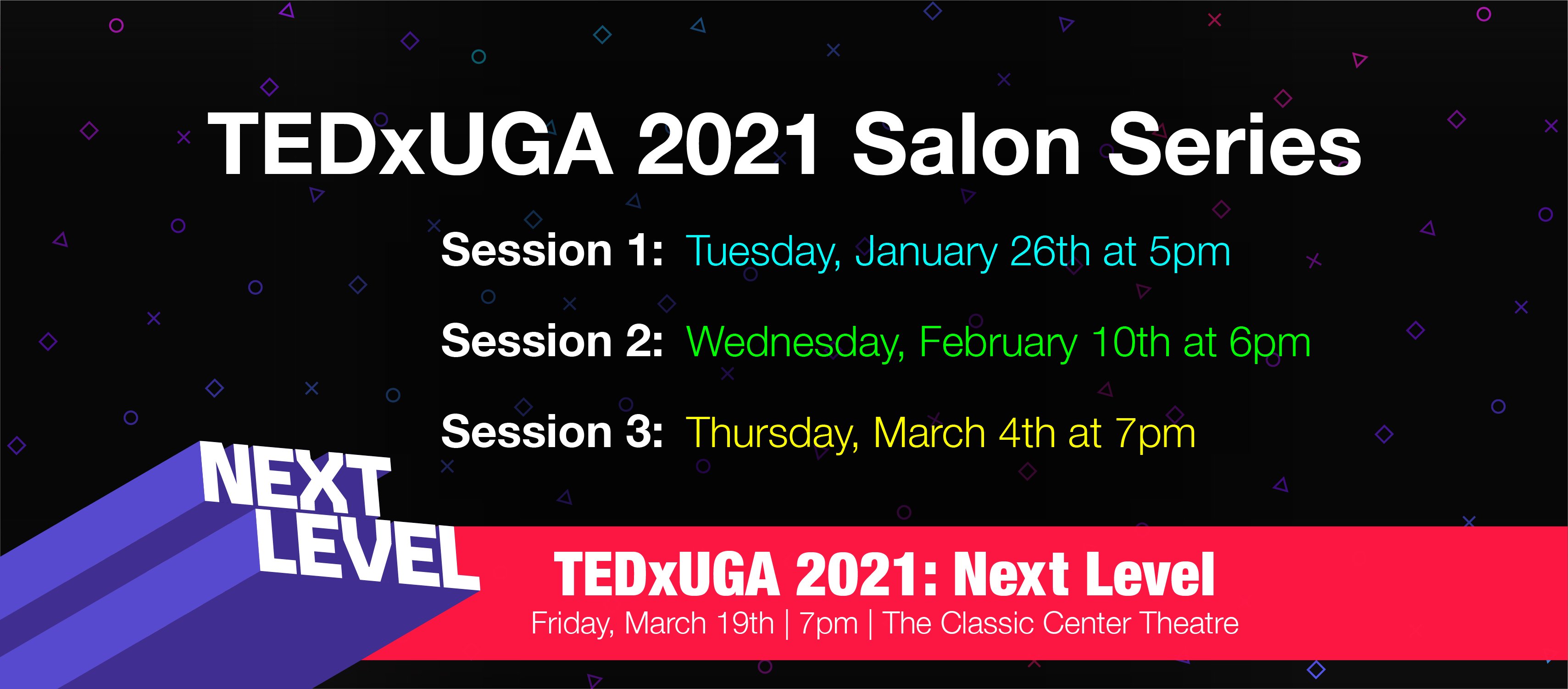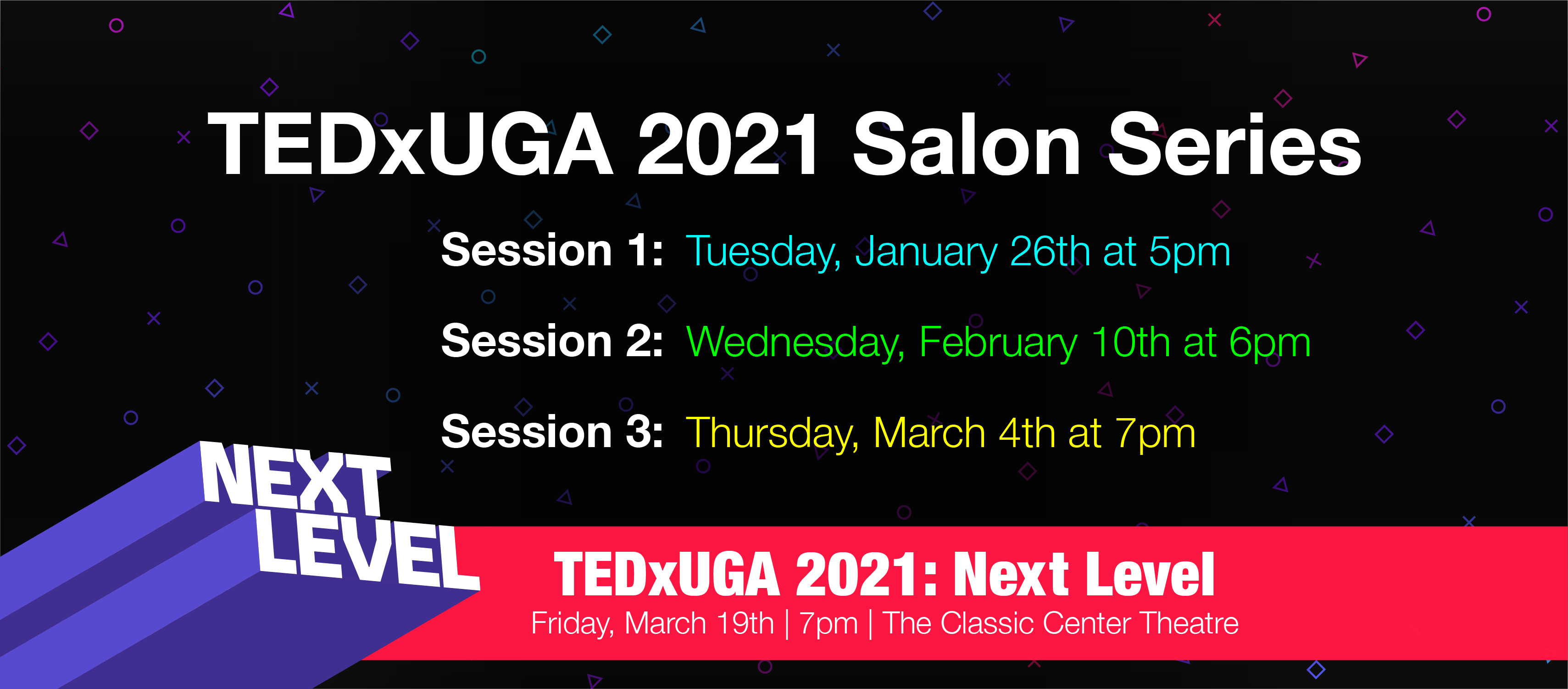 As we prepare to take the stage for TEDxUGA 2021: Next Level, we begin a new chapter of ideas worth spreading. We invite you to join us as we launch the first-ever TEDxUGA Virtual Salon Series. Salons offer an intimate audience the chance to engage with each other and explore next level ideas through a collection of highly-curated talks revolving around a globally relevant or locally important theme. The TEDxUGA 2021 Next Level Salon Series will feature six incredible talks from the Student Idea Showcase stage, each paired with interviews featuring the presenters and other special campus and community guests. Mark your calendar and join the presenters and TEDxUGA team as each Salon is premiered live on the TEDxUGA Facebook Page. Registration not required.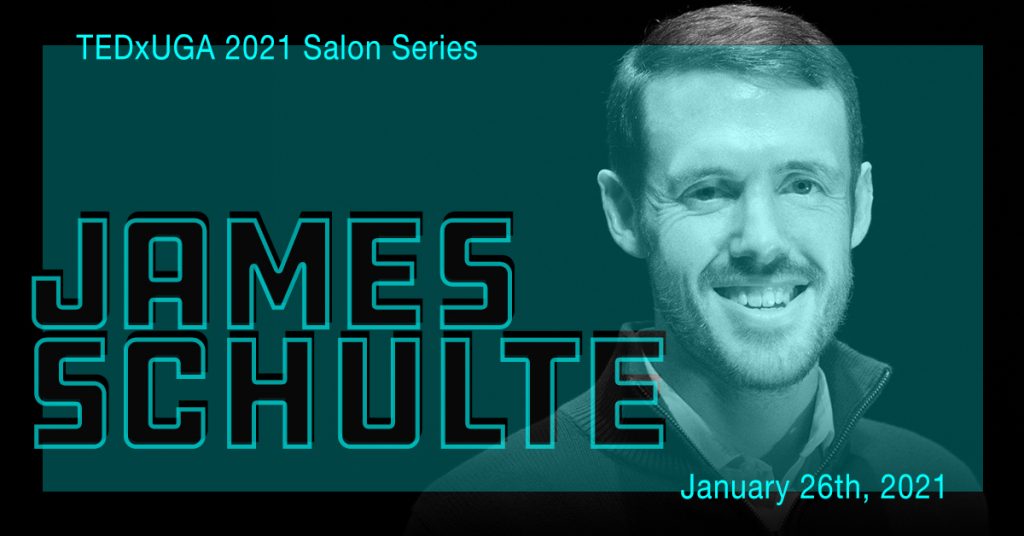 James Schulte is a graduate student pursuing a Master of Landscape Architecture. An alumnus of the College of Environment and Design, Schulte worked at EDSA, a landscape architecture and urban design firm where he specialized in international resort planning, and now focuses on community, campus, and workplace studio projects. In his talk, Schulte invites us to look up and see vegetated rooftops as a tool to combat the climate crisis.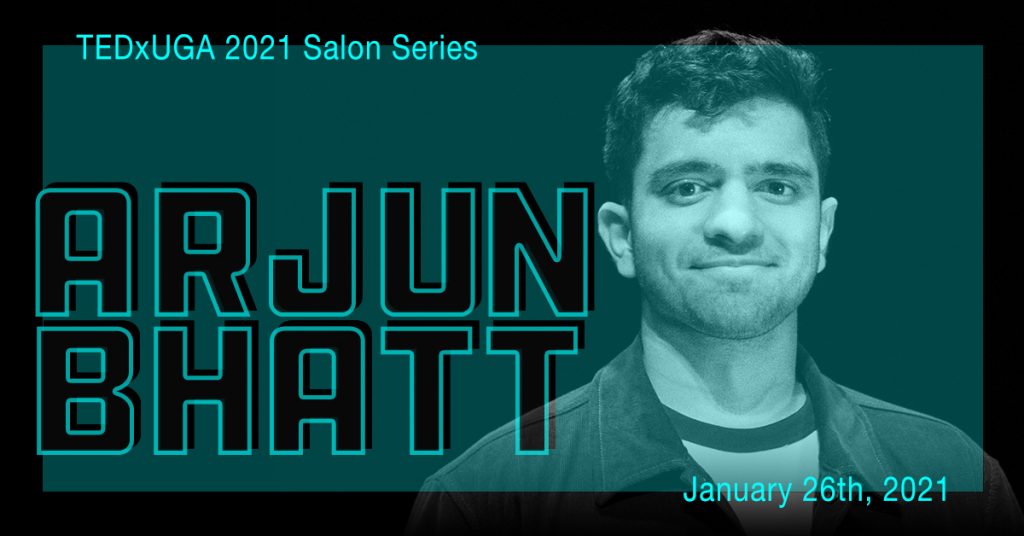 Arjun Bhatt is a fourth-year honors undergraduate studying Psychology and Applied Biotechnology. A recipient of the Presidential Scholar Award and the College of Agricultural and Environmental Sciences Global Citizen Award, Bhatt gained research experience at MD Anderson Cancer Research Institute in Texas. In his talk, Bhatt challenges us to reconsider our definition of success and put passion before prestige.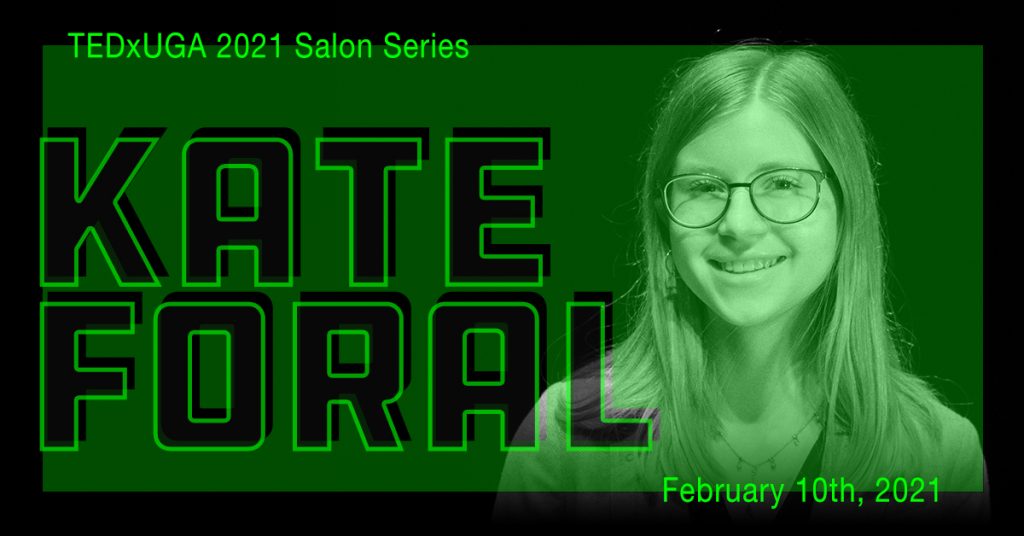 Kate Foral is a third-year undergraduate pursuing a Bachelor of Science in Environmental Health with a minor in Health Policy and Management and a certificate in Water Resources. A former water quality intern at the Upper Oconee Watershed Network, Foral now serves as the College of Public Health senator for the Student Government Association, the co-president of the UGArden Community Farm Club, and an environmental sustainability fellow at the consulting group She Grows it. In her talk, Kate explores how participation in environmental research can create global change.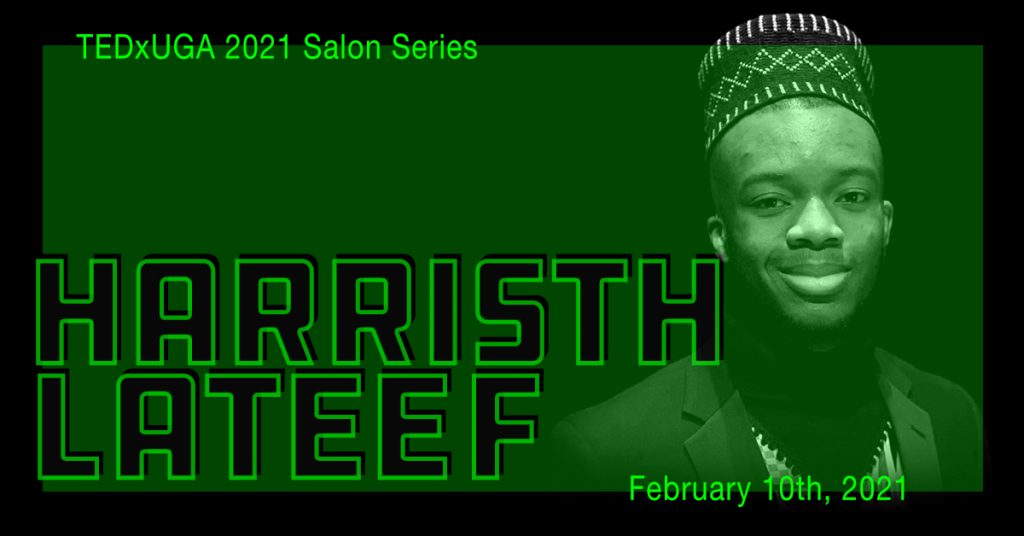 Harristh Lateef is a first-year undergraduate studying International Affairs. Inspired by superheroes' desire to help those around them, Lateef seeks to shed light on the racial disparities and inaccuracies that impact the world of entertainment media. In his talk, Lateef invites us to discover our own ability to influence media representation and empower a new generation.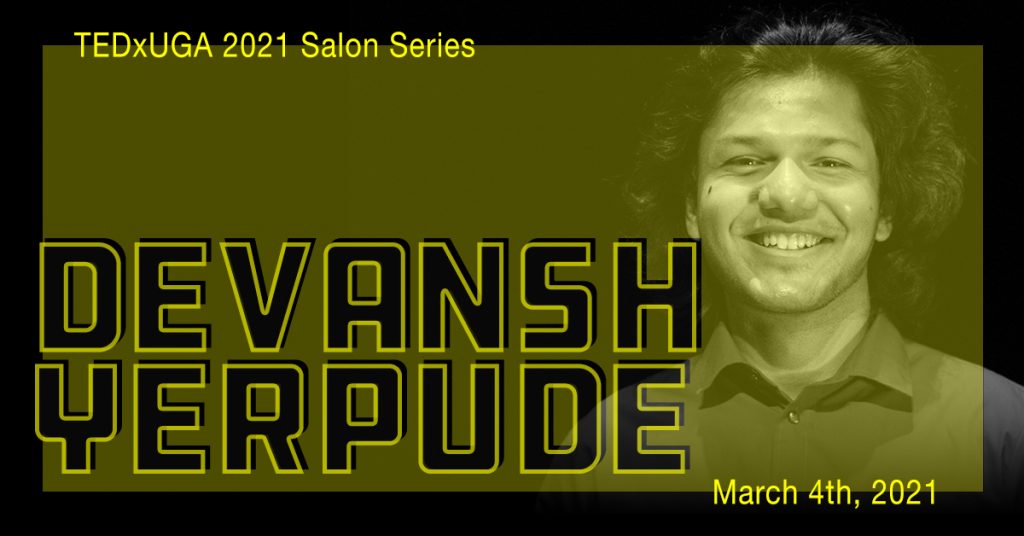 Devansh Yerpude is a second-year undergraduate studying Computer Science, Data Science, and Economics. In addition to his research in machine learning, data mining. and natural language processing in the Franklin College of Arts and Sciences, Yerpude developed an app for Mobile Health UGA to advance access to healthcare in underserved communities in Athens, Georgia. Currently, he is designing and building an asset tracking robot for the UGA Innovation Factory. In his talk, Yerpude paints a picture of how computer science education can empower us to solve problems big and small.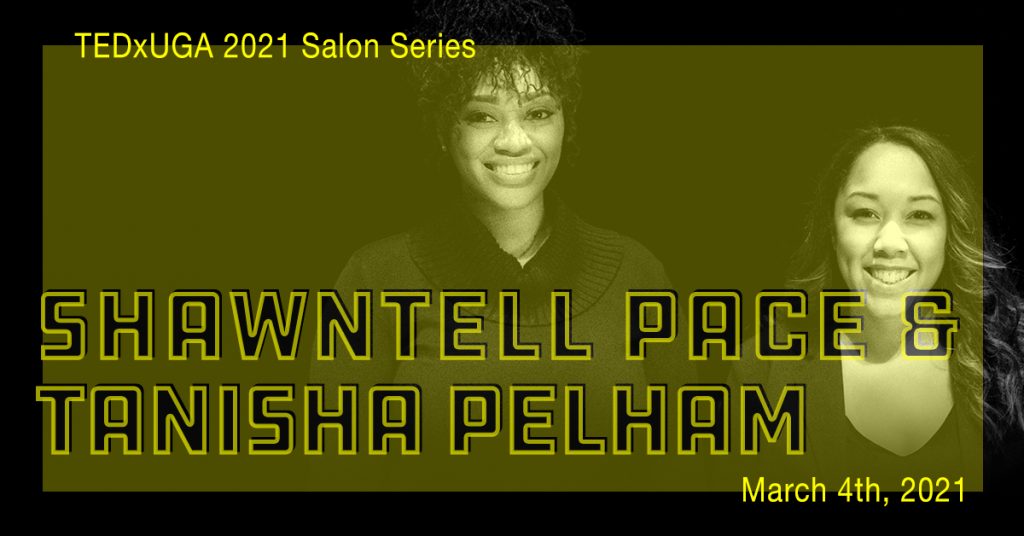 Shawntell Pace and Tanisha Pelham are doctoral candidates in the Counseling Psychology program. Pace holds a Bachelor of Arts in Radio, Television, and Film and a Masters in Higher Education Administration from Auburn University, as well as a Master of Education in Clinical Mental Health Counseling from the University of Georgia. Pelham holds a Bachelor of Science in Psychology and a Master of Science in Community Psychology from Florida A&M University. Their research observes the health impacts of race-based experiences on people of African descent. Pace and Pelham co-facilitate the Healing Circle, a sacred space that supports Black women at the University of Georgia throughout their emotional healing journeys. In their talk, Pace and Pelham explore how creating and protecting sacred spaces heals racial trauma.